Description
Inspirational Quotes Coco Chanel Collection Instagram posts
25 Instagram  Posts for your Instagram & Facebook posts add to your IG stories, planners, or just print them off and frame them because they are just so Perfectly Pretty!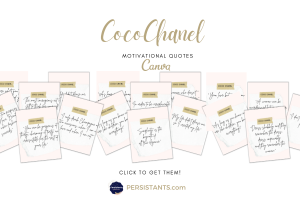 ***PLEASE NOTE: this is a digital product – No physical item will be shipped***
WHAT'S INCLUDED IN THIS DIGITAL QUOTES KIT?
25 Instagram Individual quotes, all in  PNG IMAGES – COCO CHANEL QUOTE.
Quotes included:
"Adornment, what a science! Beauty, what a weapon! Modesty, what elegance!"

"A girl should be two things: classy and fabulous."

COCO Chanel Gallery

COCO Chanel Gallery

COCO Chanel Gallery

COCO Chanel Quotes Collection blush pink
"The best color in the whole world is the one that looks good on you."

"Fashion changes, but style endures."

"Don't spend time beating on a wall, hoping to transform it into a door."

"Elegance does not consist in putting on a new dress."

"A woman who cuts her hair is about to change her life."

"In order to be irreplaceable one must always be different."

"My life didn't please me, so I created my life."

 and My other personal faves..COCO Chanel Quotes Collection blush pink contains 25 Beautiful Coco Chanel Quotes for your Instagram feed