Description
Meal Planning Printable Kit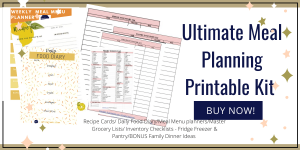 This Meal Planning Printable Kit will help you get your meal planning organized quickly and easily. Make your Family's meals in no time and have fun doing it!  
This kit includes:
Recipe Cards

Daily Food Diary

Weekly Menu Meal Plan already done for you

Weekly Menu Meal plan blank
Master Grocery List already done for you

Master Grocery List blank one with Categories only

Freezer Inventory List

Fridge Inventory List

Pantry Inventory List
* Bonus My Family Favorite Dinner Ideas list
Enjoy! Bon Appetite!