Business Tip: Why is  Social Media Posting Schedule So important?

Most of us don't have time for one more thing to manage in our Social Media marketing on a daily basis.

However here are some thoughts aournd why having a social media planner is so important, the benefits and also the opportunity to get mine for free to get you started in case you don't have one.

"Take a look at the posts you have in your pipeline. Are they engaging? Does each post have a purpose?."
Benefits of Hiring Your Persistants Virtual Assistant
Save You Time and Money
Remove the Overwhelm
Create a Calm in your Business
Focus on Revenue Generating Tasks
 Want My Social Media Editorial Calendar For FREE?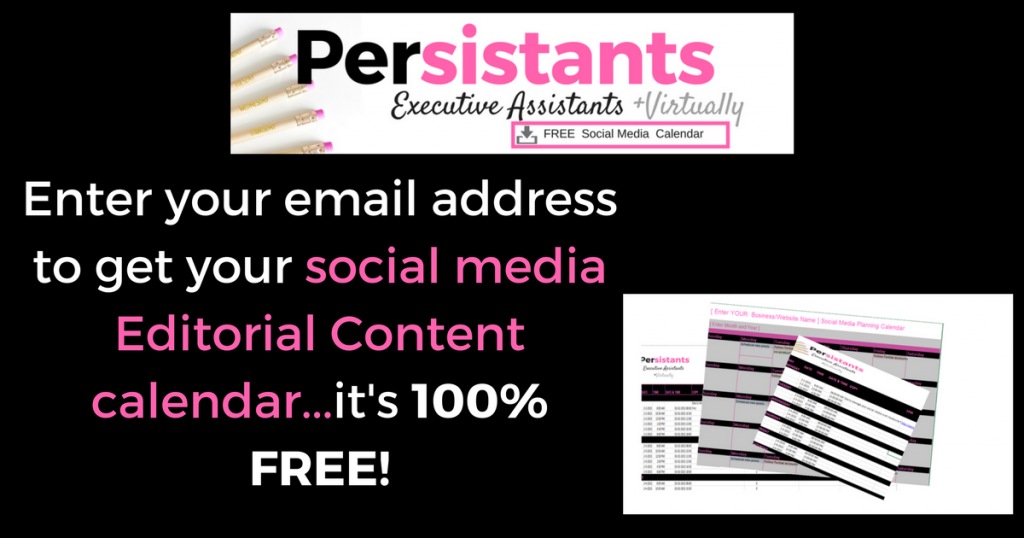 Why Is a Social Media Posting  Schedule So Important?
Persistants Business Tip: REVIEW UPCOMING CONTENT AND POSTS
If you're a smart and proactive business owner, you've probably got posts ready to go in your pipeline into your social media editorial calendar.
After you've reviewed analytics and data, & Fyi, you need to be doing this on a weekly basis, you're ready to start looking forward.
Take a look at the posts you have in your pipeline. Are they engaging? Does each post have a purpose? Do I have enough posts? Do I have too many?
Knowing your upcoming posting schedule will definitely alleviate the stresses of being your own CMO, aka Chief Marketing Officer.
I highly recommend you read What is an Editorial Calendar and why Your Business Needs one now?  That Briefly explains why Social Media Posting schedule is so important to any and every business.
Why Is a Social Media Posting  Schedule So Important?
If you are Not the CMO and need some help in running your Business so you can be the CEO Persistants Can Help.
If you are unfamiliar with What is A Virtual Assistant or perhaps How we can help, or what duties can I delegate to a Virtual Assistant have
a look and Contact Us today if you have any questions.
Need some help?
NOW BOOKING FOR SEPTEMBER 2018
Want to work together?
 I can't wait to learn more about your project! The first step is to 
fill out a project inquiry form
. I'll be in touch soon so that we can schedule a complimentary phone consultation to go over your project in more detail.
Learn More about our Services Here